The leaders of the Yongcheng Office of theCustoms came to our company for investigation
On the morning of November 2, 2021, Wei, deputydirector of the Beilun Customs Office of the People's Republic of China inYongcheng, led Section Chief Huang and Mr. Zhou of the Comprehensive BusinessSection to our company to investigate .our company's processing trade business.Li Gao, chairman of the company, Fang Fei, general manager, and relevant businesspersonnel accompanied the research and discussion.

Fang Fei, the general manager, welcomed thearrival of Deputy Director Wei and his entourage on behalf of the company, andbriefly introduced the company's development history, goal positioning,business development and other aspects. He pointed out that the development ofprocessing trade business is an advantage of coastal enterprises, and we must makegood use of this advantage and differentiate the development positioning ofenterprises and inland enterprises. Our enterprise will also strictly abide bythe relevant laws and regulations of the state, make good use of nationalpolicies, and contribute to the development of enterprises. Chairman Li Gaothanked Ningbo Customs for its long-term care and support for our enterprise onbehalf of the company. He introduced the development goals and visions of thecompany's natural health industry chain to Deputy Director Wei and hisentourage, hoping to take advantage of the national processing trade platformand relevant bonded policies to introduce more foreign plant resources todomestic sales, so that Chinese people can enjoy internationally efficient, green,healthy and nutritious food.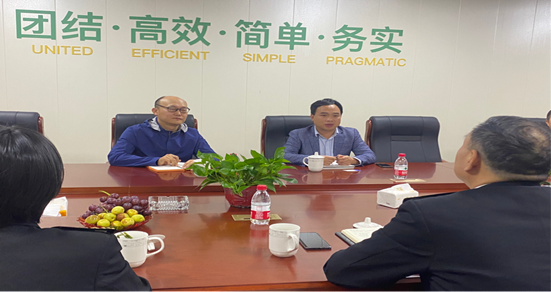 Deputy Director Wei introduced the relevantpolicies of national processing trade to our company and the advantages ofpolicies for coastal enterprises. At the same time, combined with the volume ofhundreds of processing trade manuals in our company every year in recent years,we have fully affirmed the implementation of our processing trade.Subsequently, Deputy Director Wei put forward higher requirements for ourenterprise, especially when he believed that our enterprise had achieved suchachievements, we should strengthen the improvement of soft power. Strengthenthe research and development of enterprises and improve the management level ofenterprises to improve the core competitiveness of enterprises. In addition,for the problems existing in the business, we are required to berealistic,strictly abide by the processing trade manuals and guidelines, andmake use of relevant national policies in compliance, lawfully andaffectionately. At the same time, Deputy Director Wei also asked ourenterprises to communicate more daily business issues with customs lawenforcement and supervision departments, communicate more and promote more.
Finally, under the leadership of theenterprise leaders, Deputy Director Wei and his entourage visited our company'slaboratory, production workshop and raw materials and finished productwarehouse.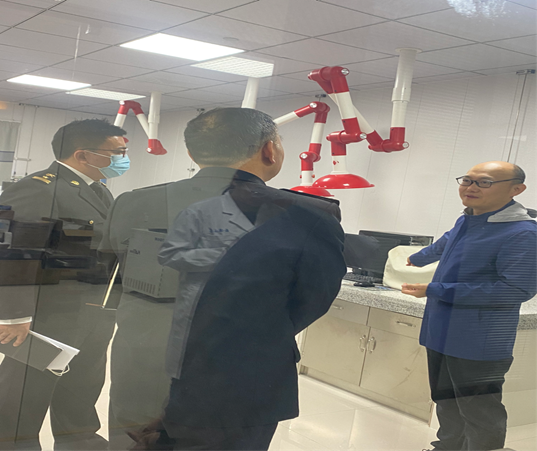 Leadership inspection